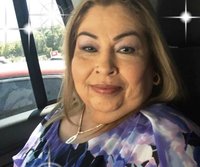 Dorothy Hernandez Villegas
Our Beloved Dorothy Villegas, 59, was called home by our Heavenly Father on Saturday, February 10, 2018.
She was preceded in death by her parents Frank, Sr. and Elvira Villegas; brothers Bobby Villegas and Frank Villegas, Jr.; son Frank Villegas; daughter Josephina Villegas; grandsons Tim Anthony Martinez and Jacob Anthony Martinez.
She is survived by her loving children Felixino Villegas, Manuel Villegas, Frances Villegas (Tim Martinez); Victoria Villegas (Jesse Morones), Tiburcio Villegas (Jessica Salas), Ann Marie Zamora (Henry Joe Zamora), Angela Villegas, and Joyce Marie Villegas; 33 grandchildren; 14 great-grandchildren; siblings Rudy Villegas (Mary); Gloria Gomez; Mary Tovar (Pablo), Roy Villegas (Linda), Yolanda Villegas, Gary Villegas, Lupe Morales, Joyce Zuniga (Estevan), and Andy Villegas; many loving nieces and nephews.
Visitation will be held from 5:00-9:00 p.m. with Recitation of the Holy Rosary to begin at 7:00 p.m. on Wednesday, February 14, 2018 at Mission Funeral Home-South Side, 6204 South First Street, Austin, Texas 78745. Mass of Christian Burial will begin at 10:00 am, on Thursday, February 15, 2018 at San Jose Catholic Church 2435 Oak Crest. Interment will follow at Assumption Cemetery.
Please visit www.missionmemorials.com to order flowers and offer condolences to the family.